Part of the reason

I love

this time of the year, is because it means that HUGE DINNER'S with FABULOUS FEASTS will be coming very, very soon to a table near you!
But the best part (hands down) of every one of those meals (in my opinion)...
the DESSERT!
My husband came home yesterday from work with a grocery bag full of things and this newspaper article.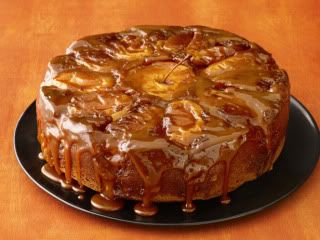 The recipe was taken from the Food Network Magazine and he was dying for me to make it, so we could try it. I mean, it said, "SO YUMMY, It's Scary" in the title. And seriously, anything titled...CARMEL APPLE CAKE, sounds positively scrumptious, right?
So, while my husband and son were at the football playoffs, I decided to undertake this baking process and try it on for size. LITERALLY! Per serving, this dessert offers:
658 calories, 21 grams of fat, 115 grams of carbs
, etc. You get the idea. Not the best for us...but since we aren't going to be eating this every single night of our lives, it's not going to kill us to indulge a little, right?
The first thing I realized, was that I didn't own the right sized cake pan. OH WELL...I just decided to make a longer and skinner cake instead...and you know what, it really didn't matter. Though I didn't follow the rules to a "T" (cause I didn't want to put the apple in the middle with the stem hanging out), it turned out pretty amazing (and indulgent) and even, just giving the kids a sample taste of the carmel topping & crumbles of the cake that stuck to the side of the pan...they were CRYING (literally) for more.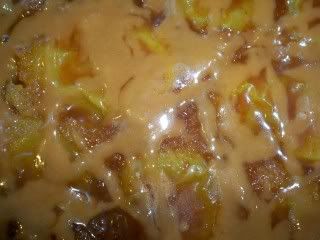 Consider this to be the IDEAL dessert for Thanksgiving dinner...or even just a hearty family gathering! Everyone will love the sweetness and tastes of this season in this
Carmel Apple Cake
. Just be warned...this is part of the reason that us Americans go on "NEW YEARS DIETS" come the first of the year!
I was not paid to feature this post! I was not compensated in any way!