I'm always looking for products to help me keep my floors clean. Seriously, it seems that whenever I make the effort to mop the floor on my hands and knees, it rains the next day. It's karma, right? So, when I come across a product that will not only keep my kids happily entertained, but also keep my floors sparkling clean...I FALL IN LOVE!
Deeply in love!!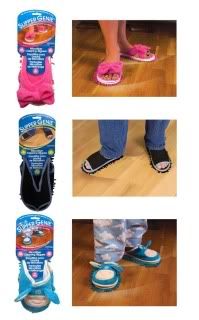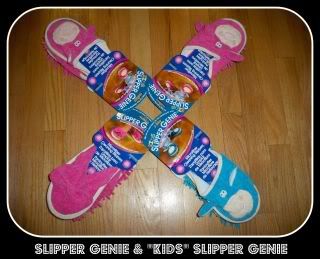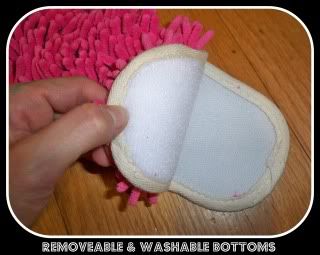 I love the look of the
women's Slipper Genie
, it almost has a "house shoe" look with a cute bow accent. Plus, MOMMY loves hot pink! I love how soft the chenille fabric is and how the bottom is detachable (Velcro) so you can wash it and wear it again.
The kids received the
"Kids" Slipper Genie's
that were made to look like a blue/pink adorable animal. Not only will they be keeping my floor "dust free", but they really are to cute for words!
Check us out...having a great time (and embarrassing my oldest son) while we try out or new
Slipper Genie's
.
Keep in mind, these are not for mopping (nothing wet), but more "dusting" type cleaning (only dry floors)! They really work and they are a lot of fun to wear too!
So, in my opinion...parents should be buying their kids these
Slipper Genie's
for Christmas stocking stuffers. Your kids will never know that they are helping you with the household chores and they will love their new slippers. Then you can silently giggle inside, as you notice the nice clean glow of the floors (being that they will be pretty much dust free) and pat yourself on the back for buying a present that makes both of you happy.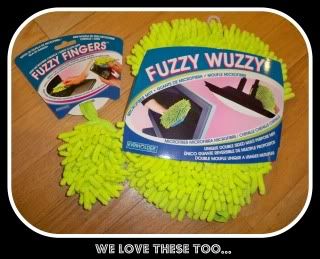 They also offer products like these awesome
"FUZZY WUZZY" Microfiber Mitts
that are perfect for dusting off the t.v., lamps, etc. And the
"FUZZY FINGER"
which is perfect for keyboards and small spaces you want to remove dust and dirt from.
I was not paid to feature this post! I was compensated only by the products sent for review/feature!