I've had lots of "Friends" commenting about their interest in when and where they will be able to buy the
"Bubble Guppies" toy line
. I know that my son is totally obsessed with the show and even my five year old daughter loves watching it too. A toy line is an awesome idea!
It's a must for your kids, right?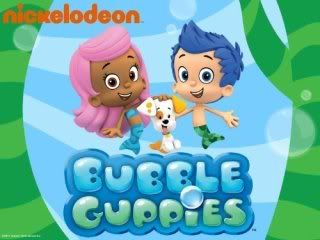 I just wantedy ou to know that e-mailed my contacts (on your behalf) at Nickelodeon today and they informed me that there hasn't been anything formally announced yet, as far as a toy line...but once I know for sure...I will definitely let you know!
I have a feeling that, if they introduce it before Christmas this year...this will be one of the top PRESCHOOL toys sold for 2011.
Do your kids love the "BUBBLE GUPPIES?"
Who's their favorite character?
What type of toy products would you like to see them create?
I think bath toys (of course) would be a huge hit (cause then the kids can swim with them). SHARE WITH ME...cause Nickelodeon will love hearing your feedback too! While you're waiting for the toy line, you can always head over to Nick Jr. (
CLICK HERE
) and print out coloring pages & activities to keep them busy with their favorite new characters!
I was not paid to feature this post! I was not compensated in anyway!