So, I've been looking into and researching outdoor
wooden swing/play sets
for my kids. I have to find some way to stay sane this summer and having something like this to not only entertain my four "VERY ENERGETIC" kids, but also, the neighbor kids, that spend most of the summer at our house with us.

These types of
WOODEN SWING SET/ PLAY SET
can be pretty pricey, but I did find a site that really caught my eye. Why? Well, not only do they have awesome
Wooden Swing/Play Sets
, but you can actually use their
"DESIGN YOUR OWN"
option and create the
SWING/PLAY SET
of your kids dreams! My kids were seriously drooling down my neck as I was checking out their website and playing around with their "custom" designer. Of course the Swing Set of their "dreams" would cost us like $19,000.00, cause they wanted everything on it. It was still fun to play around it with it and "DREAM".
Why? Well, it's not only dynamic (perfect for lots of children to play on), but also reasonably priced for what you are truly investing in. Think about it...your kids are going to play on this swing/ play set everyday (weather providing) year round. It will get them outside, active, imaginative and entertained.
WE REALLY NEED ONE!
So...are you ready for the exciting news for you? I am excited to announce that (1) of my readers children will be able to actually "GIVE TESTIMONY" to it's awesomeness, because I am delighted to be hosting a giveaway of that exact product:
Here are some details about this awesome playset:
(sale price $1,799.00)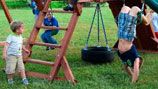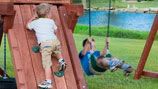 •Tire Swing
•Ductile Iron Swing Hangers
•Steering Wheel
•Rope Ladder
•Two-Ring Rock Climbing Wall
•10' Green Wave Slide (Rave)
•2 Swings
•2x6 Safety Steps
•12oz Vinyl Canopy
•2 Position Swing Beam
•3'x5' Deck
•4x6 Deck Supports
•4x6 Swing Beam
•5' Deck Height
* Swing beam is rated at 250 lbs per swing * Monkey bar is rated at 150 lbs per swing
(The giveaway will include free delivery to anywhere in the US except

Alaska

and

Hawaii

. Installation is not included, though their website has installer's information if you would so choose to have it installed instead of installing it yourself)
Who's excited with me?
To Enter To Win This AWESOME Swing Set
(
you must do the first & hopefully second and then one or all of the following
):
1st - "LIKE" them on Facebook (
CLICK HERE
) & leave a comment telling them why you need to win this Swing Set from One Bored Mommy (THIS STEP IS MANDATORY & WILL BE CONFIRMED UPON WINNING)
2nd - BLOG on your personal blog about this giveaway, and leave a link to your feature, so we can read about it
3rd - "LIKE" us on Facebook (
CLICK HERE
) & comment that you do
4th - "Follow" us on Twitter (
CLICK HERE
) & comment that you do
5th - Follow our blog directly & comment that you do
6th - "Tweet" about this giveaway & comment that you do (you may do this twice daily)
7th - Enter one of the other current giveaways & comment which ones you entered to win (you may do this once per giveaway entered).
This giveaway will end on June 22, 2011 (just in time for summer) and is opened to US residents only! Be sure to leave your e-mail address with each entry and leave separate comments for each entry (so you have more chances to win).
I am thrilled to be partnered with
Kid's Creations
and hope that we will be investing (personally) in one of their awesome swing sets ourselves this summer.
I was not paid to feature this post! I was not compensated in any way by posting about this giveaway!