This is our weather forcast for this week: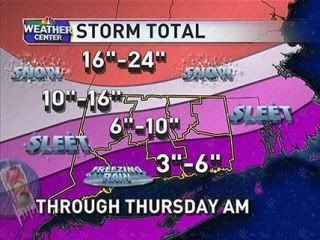 Anyone want to take bets on if there will be at least one, if not two "SNOW DAYS" this week?
My kids think this is GREAT! But you (parents) do realize that this means we will be loosing basically our whole SPRING BREAK week because of all the cancelled days of school. FABULOUS!
Just thought I'd share...I know my hometown is getting fog right now...and they have delays in the morning until it clears. I would trade this snow for a fog delay right now for sure!
P.S. A note to my husband, I am not complaining, just sharing with my readers the reality of the weather here in Connecticut! LOL!