The year was 1996! I was the most "SPIRITED SENIOR" and living the high life in Bakersfield, CA as I graduated from Centennial High School. My entire high school experience was a unique (in the best way) and special situation. We (our class) was the first graduating class from Centennial. It was a brand new high school in our town! We set the standards...we were the leaders from sophomore year on (we started with freshman & sophomores).
It really was an awesome year!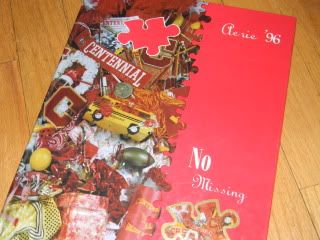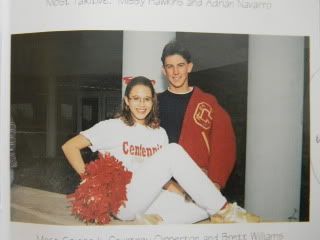 So now it's 2011 and I blinked and missed the 15 years that passed in that time frame! SERIOUSLY! I don't feel old enough to have been out of high school for 15 years already? I'm OLD! Sob...Sob...Sob! Just thinking about it makes me sad...because I still feel extremely young on the inside.
Guess I'm just YOUNG AT HEART!
Though I'll admit...when I look in the mirror and see new wrinkles appearing and the flecks of reflective (pure white) hair in the mirror, peaking out of the roots of my darkly dyed hair..I know it's true!
(that's me in the Letterman jacket)
In five years...it will be our 20th Class Reunion! HOLY COW! It truly seems impossible, but it's truly within reach now. I guess I have accomplished a lot in the 15 years I've been out of high school. I've had several jobs, lived in several states (CA, OH, TX, CT), have four beautiful children, have this awesome blogspot, and even made a NATIONAL t.v. debut (yes, I am still excited about that few moments with Nate Berkus and Dr. Oz).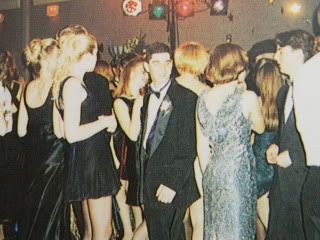 (I was just telling my babysitters about the sparkly silver dress I wore to this formal)
So BRING IT ON
...I know five years will go quickly and I'll be ready to give out hugs, share some laughs and enjoy an evening or two with my friends from Centennial High Schools Senior Class of 1996.